👋 Hi there! My name is Justin, and I created CrowdParty! Nice to meet you.
Like many of you, I've gotten into a habit of working from home. During the quarantine, I noticed that while WFH may have a lot of pros, I felt that the social bond that we all experienced in the office just wasn't quite there.
I'm a firm believer in play. I truly believe that a little bit of playtime allows us to build camaraderie, get our creative juices flowing, and improve our wellbeing. Some of the biggest challenges at work were solved over games of ping-pong and foosball. But what happens when those disappear? When we can no longer play a quick board game over lunch? When we lose the social connection that's built by physically being there and playing together?
Fatigue.
I felt it, and I'm pretty sure most of you have too.
That is why we created CrowdParty. To bring back the social fun that we all used to experience in person. A social game service that's designed for the modern remote world we live in. With multiple customizable game modes and no installations required, you can start engaging your organization and your teams in no time!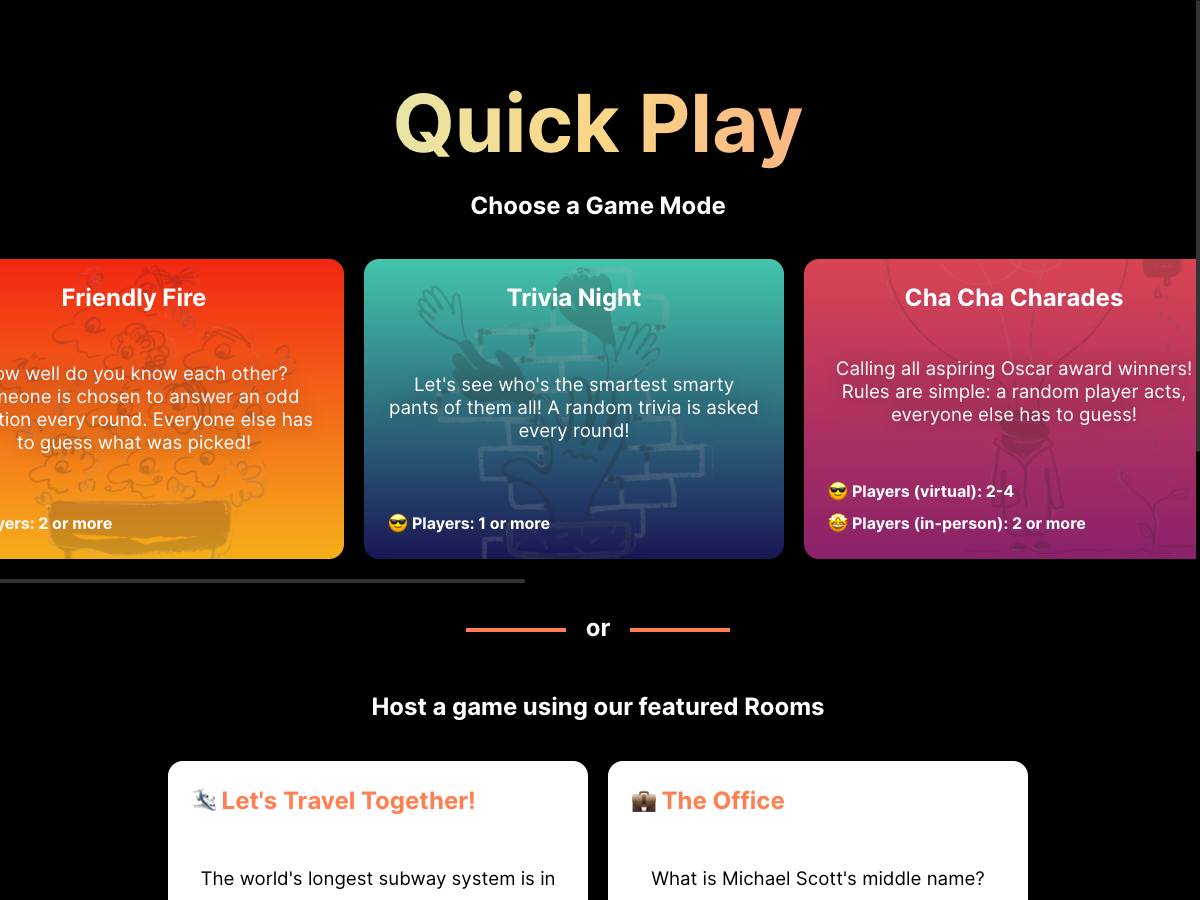 Get CrowdParty
So how does it work?
Pretty simple actually.
A host shares their CrowdParty screen on Zoom, Hangouts / Meet, Teams, or a projector or TV. All the other players join using their computers or their phones. That's it!
So where can I use it?
Standups, meetings, retros, townhalls, classes, quarantine game nights with friends, virtual weddings, you name it! Its interactive nature is sure to energize your team or your group!
Use Cases
Make Happy Hours and social events more interactive
Let's be real. Large virtual social events don't work very well. You'll get a few people socializing at most. With CrowdParty, everyone can participate and be competitive with one another–eventually sparking natural conversations!
Team building done right
Do you want to get the team laughing? Do you want them to get to know each other better? Try this: a personal fun fact trivia. Or even better: Friendly Fire. CrowdParty's games are perfect for teams who want to break the social barrier of WFH. A team that plays together wins together!
Spice up your meetings
Want to engage a few folks before a meeting starts? Take the first five minutes while you wait for everyone else to join to play a quick game. The games can be customized with your own content, so you can make the game relevant to the meeting.
Create memorable meetings or classes
Play CrowdParty in the middle or at the end of a meeting or a lesson. Tailor the games to quiz participants about the content. Give them a few key takeaways!
Incorporate break and play times
Play a game on a schedule, say at a specific time every Monday, Wednesday, Friday. Delight your employees and students and allow them to have fun together!
Gauge your crowd
Stick a live poll in between a few rounds to ask questions that really matter.
And there you have it
We'd love to see how CrowdParty impacts your organization! We're working hard on getting out more features and game modes to bring back the fun we all used to experience in person.
Stay playful, stay healthy! ❤️
Justin
Play CrowdParty